Delta Ultra Light Full Electric Bed with Full Rails - 15033bv-fr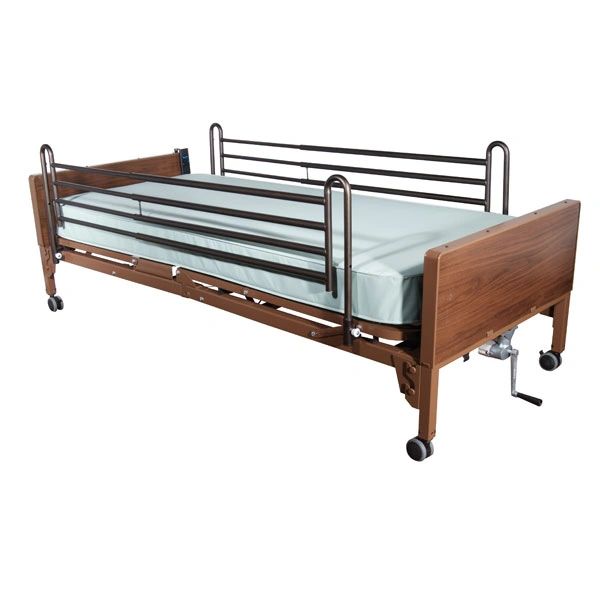 Delta Ultra Light Full Electric Bed with Full Rails - 15033bv-fr
Product Description
This lightweight, interchangeable and easily assembled electric bed (with full side rails) is the ultra-light plus model from Drive Medical. Its new universal style, crack proof head and foot boards are interchangeable, featuring high impact composite end panels. A height adjustment motor arrives pre-installed on the foot section but can still be either installed or removed tool free in seconds with the patient still in the bed. The unique single motor and junction box are self-contained to reduce noise and prevent disruptions or distractions. Even in the event of a power failure, a 9-volt battery, located in the motor, can lower the head and foot sections up to nine times. A new-and-improved hand pendant includes large, easy-to-use controls, and this bed kid includes full side rails for additional safety. The bed features channel frame construction with zinc coated spring deck to provide superior strength and reduced weight.
Features and Benefits
The Delta 1000 is truly universal because the headboards and footboards are completely interchangeable with Drive's and most other manufacturers bed ends, old and new
The transition box mounted on the foot section is key to interchangeability
The transition box allows you to change the rotation of the high-low shaft
Headboard is taller than footboard to better fit home decor
The wood grain panels are break and scratch resistant
Foot section weighs 50% less than conventional foot sections to make deliveries safe and easy
Once installed, the high/low shaft will stay with the bed to eliminate loss or forgetting on future installations
Labels and color-coded springs assure accurate installation of side rails for patient safety
Unique motor is completely self-contained to reduce weight and noise
The motor assembly can be installed and removed with patient in bed
The motor is UL approved
In the event of a power failure, a 9 volt battery, located in the motor, can lower the head and foot sections nine times
No crank needed
New and improved hand pendant has large, easy to use controls
Channel frame construction provides superior strength and reduced weight
Zinc coated spring deck
Includes Full Rails.
Product Specification
Bed (Height): 16"-22"
Overall Length: 88"
Overall Width: 36"
Model # 15033bv-fr