Bathroom Safety Solution - bskit3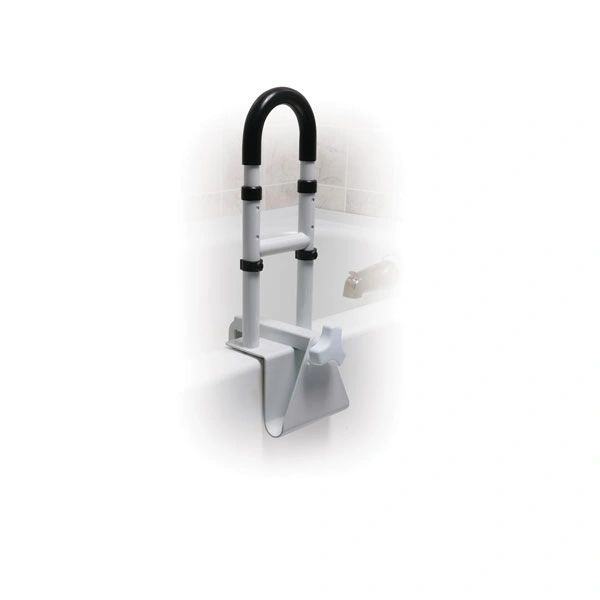 Bathroom Safety Solution - bskit3
Product Description
This Solution Package is designed to make your life easier by providing you with the perfect combination of products. This particular Solution consists of the Shower Bathtub Mat (model: 12950), the Handheld Shower Head Spray Massager (model rtl12045) and the Adjustable Height Bathtub Grab Bar Safety Rail (model: rtl12036-adj). *12950: Drive Medical's bath mat holds securely to your tub with multiple suction cups, allowing for a slip-free bathing experience. The bath mat provides a large and secure surface area in the tub. Its soft rubber mat is as easy to clean and can be rolled up for storage. This product also features a contour cut out specifically designed to fit around your drain. *rtl12045: The Handheld Shower Head Spray Massager by Drive Medical was designed to provide the user with three water flow options for a spa like experience when showering. The 84" Mylar reinforced hose is durable and allows for maneuverability increasing control over your bathing experience. Whether using as a traditional shower head or hand held shower spray massager this product can be anchored in the holder which is included. An added feature built into the shower head is an on / off switch which allows the user a simple way to turn the water flow on or off. The Handheld Shower Head Spray Massager by Drive Medical will take your bathing experience to a new level. *rtl12036-adj: This Adjustable Height Bathtub Grab Bar Safety Rail by Drive Medical was designed to fit just about any style of bathtub. The attractive white powder coated steel frame is durable and aesthetically pleasing. The grip bar adjusts from 14" to 17" allows you to find the perfect height for your needs. The angle of the grab bar is parallel to the shower wall. The adjustable width clamp attaches by turning the locking mechanism which tightens the rubber pads on all bath tub contact points. The rubber pads prevents scratching of the tubs surface and ensure a secure fit. The Bathtub Grab Bar Safety Rail is easy to install without needing tools. Please note this safety rail is not for use on fiberglass tubs.
Features and Benefits
*12950: Mat is held securely by multiple suction cups
Extra long bath mat adds safety and security by providing a large, slip proof surface in the bath
Soft rubber mat is easy to clean and roll up for storage
Mat has a contour cut design to fit around drain
Mold resistant, latex free rubber
*rtl12045: Adjustable massaging head
Chrome shower arm mount and extra-long 84" Chrome/Mylar reinforced tangle free hose
Can be used as hand held shower spray or used in handle mount as traditional showerhead
*rtl12036-adj: Durable, white powder-coated steel construction is attractive and easy-to-clean
14" to 17" height adjustment
Handle design provides secure hand position
Width adjusts from 3"-7"
Stainless steel locking mechanism and non-wearing rubber pads provide scratch proof security
Fits most tubs (not for use with fiberglass tubs)
Tool free installation.
Product Specification
*12950 Width: 15.75"
12950 Length: 35.5"
*rtl12045 Spray Options: Full Body Spray, Full Body Spray Pulsating, Pulsating
rtl12045 Hose Length: 84"
*rtl12036-adj Adjustable Clamp: 3"-7"
rtl12036-adj Handle Height: 14"-17"
Model # bskit3